PREGNANCY, BIRTH AND CHIROPRACTIC
Chiropractic Care During Pregnancy
Chiropractors are trained in wide variety of techniques to help you deal with the increases stresses of pregnancy on the body and uses safe, gentle techniques that are suitable to you.
Chiropractic care may include
Posture and lifestyle advice (Sitting, Standing, Sleeping),
Personally selected exercise routine based on individual needs of the Patient, 
Massage, Sport's Therapy, Kinesiology Taping, Chiropractic Adjustments, Muscle work, Mobilisations, Assisted exercise.

A woman's body might change during pregnancy which can put more or different strains on the ligaments and joints especially in the pelvis. Those changes include softening of ligaments, weight increase and changes to posture. All which can lead to additional pressure on joints in various parts of the body, including spine and pelvis.
Chiropractic care in pregnancy is safe and gentle way to promote comfort and minimise back pain. Back pain is common during pregnancy but you do not need to suffer with it!
What you can expect?
Chiropractors don't just "crack" spines!
An initial consultation will comprise a detailed discussion about your pain, lifestyle, history of the problem and what are you looking to change to enjoy and be able to do. This will be followed by postural and orthopaedic examinations so we can figure out how to best help you.
Chiropractic treatment is a combination of joint manipulation or mobilisation, specific massage techniques, and advice on how to make lifestyle changes which will stretch and strengthen the necessary areas and postural habits.
Chiropractors can also give advice on nutrition, posture, exercises and ways to help yourself — all based on latest guidelines and research.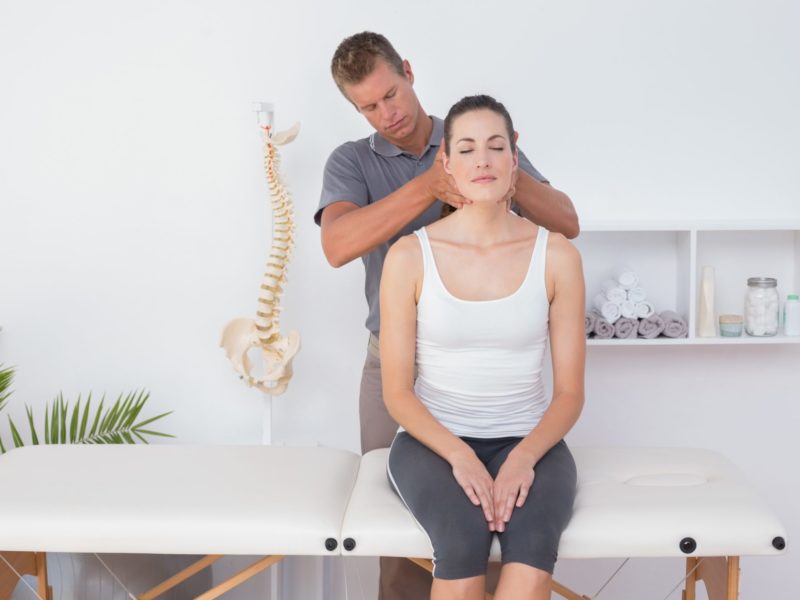 What can I do to help myself?
The following simple measures may help:
Keeping active but also getting plenty of rest
Standing tall with your bump and bottom tucked in little
Changing your position frequently – try not to sit more than 15-30 minutes at a time
Sitting to get dressed or undressed
Putting equal weight on each leg when standing
Trying to keep legs together when getting out of car
Lying on the less painful side while sleeping
Keeping your legs together when turning in bed
Using pillow under your bump and between your legs for extra support in bed
You should avoid anything that make your symptoms worse:
Lifting anything heavy
Stooping, bending or twisting to lift or carry
Carrying a toddler or baby on one hip
Sitting on the floor, sitting twisted or sitting/standing long periods
Standing on one leg or crossing your legs
If you want to book an appointment give us a call and we will book you in! In our practice Dr Milla DC and Dr Terry DC have done special training to treat pregnant ladies and are happy to help you on this journey.
Our Chiropractic Clinic in South Woodford, physiotherapy, massage, redcord, sports therapy, rehabilitation. We see a variety of clients from the following postcodes E18, E11, E17, E15, E13, E12, E10, E7, E4, IG4, IG1, IG3, IG5, IG6, IG7, IG8, IG9, RM6, RM8
Our Chiropractors at The Back Pain Centre in South Woodford Chiropractic Clinic are specialising in Treating Ladies before, During and After Pregnancy. We are capable of giving advice on stretching and exercise tailored to your personal needs.
To find out more about assesment and treatment for pregnancy, please call during our opening hours 020 8989 3338
Our Specialists
Experienced practitioners, certified to work in UK and Fully Insured
Please Bear With Us When We Are Busy
Our East London practice has over 35,000 patient files, employ 4 Doctors of Chiropractic (2 Male and 2 Female), 2 Sports Therapists, Physiotherapist and 10 Front Desk Staff. We have an on-site X-ray facilities so there is no waiting – we complete everything at the practice.
All of our Chiropractors are registered with the General Chiropractic Council (GCC). Chiropracors are fully insured and all are members of the United Chiropractic Association. We follow a strict code of practice laid down by the GCC. We only employ Physiotherapists, Sport Therapists and Massage Therapists are all insured and certified by UK bodies like HCPC, CSP and HSI. Our front desk staff are friendly, welcoming and trained to the highest standards. The practice is focused on making it easy for our patients to attend and fit their healthcare into their lives